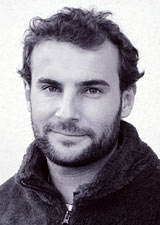 Dr. Christophe VERMARE
Growing up in Montalivet, France, along the Atlantic coast, Christophe Vermare was raised in a nudist family. He says growing up like that helped him to discover the little magical moments in life. It wasn't the perfectly formed Swedish girls who were sunbathing by him that struck him so. It was those infinitely brief moments, flashes of brilliance that truly moved him. Glimpses of a woman's curves, her breast breaking through her hair with everything framed by the sea and sun. It was an epiphany for him.

Christophe now holds a doctorate in Plasma Physics and his life has changed from those idyllic days of his boyhood. But the sea still draws him, and windsurfing and sailing are passions. Another is photography - an interest he picked up when he started taking pictures of a girl named Anne, who eventually became his wife. Shooting such photos, he says, is not about intimacy, rather it is about making a brief vision last for eternity.