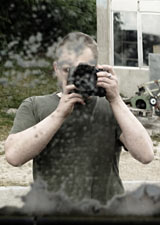 Thomas Starringer
Bavarian born artist, Thomas Starringer, came to photography in a very roundabout way. He initially worked as a laborer in a large print factory. It was here that he gradually worked his way up the ladder into more technical and artistic jobs. Then he landed some assignments for a local advertising agency, which which required him to incorporate photographs - so he shot them himself. These skills eventually landed him a position in a design firm, where his time spent with their professionally-trained fashion and commercial photographers led to his deeper understanding of photography's artistic and technical sides. In 2005, he started shooting erotic photographs of local models.

Presently, Thomas works as a freelance photographer and media specialist. When he's not on the clock, he's pursuing his own artistic inclinations with models, developing a style that he calls Crossover. He has plans to open up his own studio and venture into self-publishing.

CONTACT INFORMATION
Location: Schwarzenfeld, Germany
Email: info @ thomas-starringer.com
Website: www.thomas-starringer.com
PRINT SALES & INFORMATION
Yes - contact artist directly to purchase fine art prints.
EXHIBITION LIST