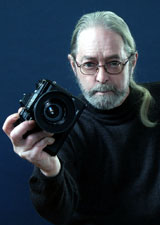 Steve Smith
Steve Smith lives and works in Allentown, Pennsylvania along with his wife, Jody, who is a fellow artist. He gleefully shocks his neighbors with a steady flow of captivating models and his creative erotic photography. Steve was born in Philadelphia, and went on to attend The Brooks Institute of Photography in Santa Barbara, California during the 1960's. He followed that up with a a stint in Hollywood and then in New York working in a fashion studio. He eventually returned to Pennsylvania where he turned his attention to figure painting. He also became a recognized authority on the identification and restoration of 'Arts & Crafts Era' furniture.

Steve's love of photography was rekindled in the 1990's with the acquisition of a Nikon camera. Describing himself as "an old dog eager to learn new tricks" he has progressed from film to digital photography, and has vigorously renewed his study of the human figure, throwing himself into creating superb nudes with a passion. Well known for his dynamic compositions and fringe models his work could be described as fine art that's laced with an erotic blast of what he says is "anti-fashion".
CONTACT INFORMATION
Location: Allentown, Pennsylvania
Email: smithart@enter.net
Website:
PRINT SALES & INFORMATION
Yes - contact artist directly to purchase fine art prints.
EXHIBITION LIST