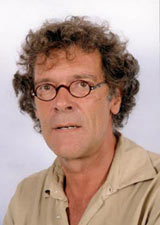 Louis Sauter
Dutch photographer Louis Sauter was born in 1952. He lives in the small town of Tholen in the southern part of the the Netherlands along with his wife and two beautiful daughters. He works as the Director at a local secondary school. But photography is his passion, he says, and nature his greatest inspiration.

Louis works with a Mamiya 645 and one of several Canon cameras. He is largely a self-taught photographer, though he has attended a few classes on the subject. His studies of the great landscape photographers have proven to be a great influence. The natural beauty of his homeland is presently the focus of his work. Even his nudes are instances where he attempts to integrate the human figure into Holland's beautiful countryside.

CONTACT INFORMATION
Location: Tholen, The Netherlands
Email: low123@zeelandnet.nl
Website: www.louissauter.exto.nl
PRINT SALES & INFORMATION
Yes - contact artist directly to purchase fine art prints.
EXHIBITION LIST