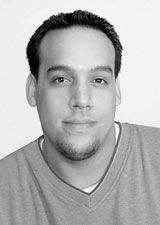 Marcos A. Rivera
Living in New York City, Marcos Rivera runs a Multimedia group for a PR firm. But he's always had a passion for photography, and that passion went into overdrive a few years back on a trip to Ireland, as he was so smitten with the beauty of the landscape and the people.

Since 2005 Marcos has been photographing women. About this work, he says, "I strive to create sensuous and erotic imagery that highlights the beauty, personality and sensuality of my subjects. I find elements of so many photographers' work to be inspiring, from Kertesz to contemporary photographers like Frank Wartenberg and Martin Schoeller."

CONTACT INFORMATION
Location: New York City, NY
Email: marcos@gotmarcos.com
Website: www.gotmarcos.com
PRINT SALES & INFORMATION
Yes - contact artist directly to purchase fine art prints.
EXHIBITION LIST