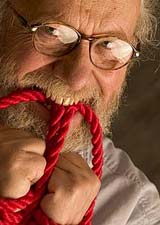 John Running
The iconic John Running passed in January 2018. He was a longtime resident of Flagstaff, Arizona and was active in the local art scene. He was also a citizen artist of the world and he travled throughout his life, photographing everything as he went along. He shot extensively in the Middle East. He documented a close friend's horrific journey battling cancer. His documentary work and portraits of Native Americans is one of his more marvelous bodies of work. He was close to many residents of nearby Indian reservations and attended many gatherings throughout the country. Seemingly everyone loved John .. and trusted him. He had a magnetic glow that instantly attracted everyone fortunate enough to enter his orbit. His massive body of work, unflinching, intimate, and revelatory, attests to that privileged access.

In addition to photojournalism, portraiture, and many other genres, John photographed the human figure. His nudes possess the same level of intimacy and fearlessness that characterize his other works. He shot figure studies, nude portraits, and a variety of erotica that always showcased the unique beauty and splendor of his subject. Many models worked with John exclusively and collaborated with him over several years.
John Running's photography is archived and available for viewing at at Northern Arizona University (NAU) housed in a Special Collections: http://library.nau.edu/speccoll/exhibits/running/collection.html

The world will not forget John Running; he'll live long in the hearts and minds of his family, friends, and all those he encountered. And the grandeur of his photography will last forever in the many books he published, the galleries and private collections he's in, and the John Running archive at Northern Arizona University.