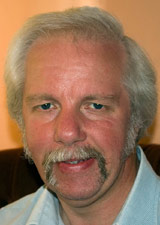 Stephen Plant
Based in Derby, Derbyshire, British photographer Stephen Plant likes to utilize the beautiful surrounding countryside as the background for his model shoots. He currently shoots with a pro-level Pentax digital body, although he still has a penchant for shooting film now and again (with a Mamiya RB67). But it's the rolling English countryside that so imbues his work artful charm. That and his gift for recruiting the most marvelous, photogenic models.

Although Stephen professes to be a shy individual, he does feel that he works well with women in general. It all goes back to when he worked in a textile mill where most of the employees were women, and many were young ... and quite attractive. Although he never photographed any of his co-workers, he says this period educated him on how to best communicate with the fairer sex, and ultimately, how to get the best out of them.

Stephen has been into cameras and photography since he was a boy, and thanks to lots of support from his family, including his parents as well as aunts and uncles, he has always had both good equipment to work with and lots of encouragement to kindle his fire. That trend continued with his wife, who has been a constant source of support over the years. This and the inspiration he got from viewing the work of photographers such as Patrick Lichfield, Uwe Ommer, Jeff Dunas, Helmut Newton, and André De Dienes, has kept him at his task of capturing the beauty of the female form for over twenty years now.

CONTACT INFORMATION
Location: Derby, Derbyshire, UK
Email: stephen.plant10 @ ntlworld.com
Website:
PRINT SALES & INFORMATION
Yes - contact artist directly to purchase fine art prints.
EXHIBITION LIST