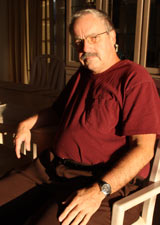 John Nemeth
John Nemeth became interested in photography as a teenager. He still has photographs that he shot in 1964 at the New York World's Fair. During most of the 1970's and 1980's he had his own darkroom and diligently worked at his craft. He began to concentrate on glamour and art nudes in 2003, in part due to his poor health and reluctance to travel, which was required for shooting landscapes. He continues to work in his desert homeland of Arizona and practice his art. He thinks of photography as a way to focus on all the beautiful things in the world.
In early 2008, John published two books of his art nudes at Blurb.com: Tracy by Sunlight and Intimate Portraits.

CONTACT INFORMATION
Location: Tucson, AZ
Email: Jnemeth@dakotacom.net
Website: www.johnnemeth.com
PRINT SALES & INFORMATION
Yes - contact artist directly to purchase fine art prints.
EXHIBITION LIST