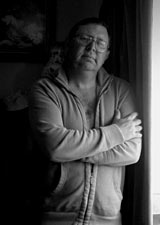 Howard Nowlan
Howard Nowlan was born in South East London, and spent much of his childhood and teenage years dealing with acute asthma. In 1981, he married Kay, a well known professional photographer who was renown as a wedding photographer and photography teacher. Both she and Howard shared a passion for art and life in general, both of which were severely tested when they discovered in 2000 that Kay had cancer.

It was during this period that Howard took the reins of teaching Kay's photography class. He also became more involved in photography and even organized a local photographic group (KPG). Howard shot a huge amount of landscape and figure work, all the while honing his natural perspective and burgeoning skill, much to the surprise and delight of Kay.

Kay died in June 2005. Her passing has spurred Howard on to further enhance his photography skills and create art. Says the photographer. "I hope that my gifts, along with the inestimable input from my wife, Kay will help me to share and express something of that beauty and longing in my images".