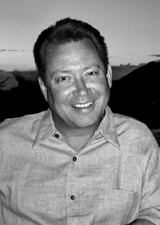 J. Brian Mitchell (A Jesters Magic)
J. Brian Mitchell was born and raised in Kentucky. He attended the University of Kentucky, where he majored in Theater. After graduation, he traveled around the country with various theater groups, and eventually ended up in New York in 1987. Once in the big apple, he did a few off-Broadway shows and even landed a regular spot on Guiding Light. It was during this period that he started working with computers, and got so good that he started doing it as a source of income. He eventually became Manager of Information Systems for a company in New York. But he still pays his dues to all three acting unions. And he makes his home in Stamford, Connecticut.

Mitchell started taking pictures while in college. He used a manual Canon TX camera back then and continues to use Canon products to this day. He's always felt the need to maintain and nurture his creative side and photography has allowed him to do that. It was while visiting friends in California during the summer of 2007 that he witnessed some of their amazing photographs, including many nudes. It inspired him to focus on the genre and he attended several workshops and started crafting a portfolio of nudes. And now, as he relates, " I've always loved nudes. I've been a fan of Michelle7.com for many years, along with other quality websites like MetArt.com, Femjoy.com, Domai.com, and others. I love the way they glorify the beauty of the female form. I'm not sure where this will all take me, but for now I'm trying to take quality photographs, learn as much as I can, and meet some wonderful people – photographers and models – who all enjoy making art.

CONTACT INFORMATION
Location: Stamford, Connecticut
Email: brian [at ]ajestersmagic.com
Website: www.ajestersmagic.com
PRINT SALES & INFORMATION
Yes - contact artist directly to purchase fine art prints.
EXHIBITION LIST