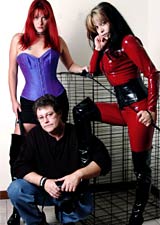 Brian Mackey
Originally born in Chicago, Illinois, Brian Mackey relocated to the great state of Texas as a teenager. It is easy to see that state's influence on him as an artist; just like the state itself, Brian has a long and colorful history and while Texas lost their petition to become there own country and eventually had to become a member of the union, Brian Mackey joins no one set group of photographers or style of photography. After moving to Florida, and then later living in Louisiana, this misplaced cowboy made his living breaking all the rules in fine art nude and figure photography. Brian first came to prominence while living in Louisiana showing and selling his black and white creations in New Orleans. Although a technically brilliant photographer and a student of Ansel Adams zone system lighting style and techniques, Brian has turned in his 4 x 5 film roots and now shoots in the digital medium.

When I first met Brian, he didn't know the difference between a fetish cross and a crucifix or the difference between a Domme and a Sub. How rare it is for an outsider to gain acceptance to such a secretive and close knit society, and pick up knowledge and content so quickly. Also gaining the trust amongst some of the biggest names on the east coast in fetish modeling. It is tragic to think that we almost lost this self-taught prodigy of photography years to soon. Due to death of his bride of 16 years who was also his only muse, he battles demons as tough and scary as the prince of darkness himself. Brian has some how been able to hold the past at bay, and battle back. It appears that he has made peace with the some of the demons that once haunted him, yet so many still remain, as some of his images clearly show.

When viewing a photograph from Brian, the viewer sees no elaborate sets, no fancy studio, no sheik settings, or extra frills that have made other photographers who they are. With Brian the viewer sees an honest sometimes painful image that can only be interpreted as the artist's highest highs and his lowest lows. His images no matter how hauntingly disturbing can only be interpreted by this writer as "The Truth".

I am proud to call him one of the world's best upcoming fetish photographers, my friend, and my mentor. While the role of teacher and student are constantly changing between the two of us, what remains is an incredible friendship, something rare in today's climate. After knowing and working with Brian for what some days feel like years and other days feels like we just met, I am forced to think of a line from an old Willie Nelson song.......

"Them" that don't know him won't like him,
And "them" that do,
Sometimes, won't know how to take him,
He ain't wrong he's just different,
and his pride won't let him,
do things to make you think he's right.

His images much like the song passage can leave you with a melancholy smile, bitter sadness, distain, contempt, or great joy. In all his work you will find, "truth in the life" of Brian Mackey.

-- by L.C. Wilson Jr. (Misfit Studios)