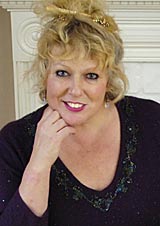 Annette Marie
Annette Marie is a professional artist who graduated in 2000 from Sheffield Hallam University, England with a Bachelor's in Fine Art. Her work is centered around the exploration of the feminine psyche. It is her belief that a woman is inherently sensual and sexual and that these aspects of her nature are linked inextricably to her other feminine virtues, such as wisdom, love, intuition and nurturing, and as such, these qualities should be celebrated and venerated.

The models in her photographs are often placed in provocative and sensual positions but are done in such a manner as to represent power rather than vulnerability. And many times her work references historical and religious contexts, which Annette attributes to the inspiration she's taken from studying the masters of the art world such as Titian, Reubens and Fragonard, and in particular the images of Mary Magdalene.
Annette is a practitioner of Karuna Reiki, which is spiritual healing using divine, universal energy. She also teaches life drawing classes and is co-director of a new publishing company that recently put out a board game called Gift of Enlightenment.