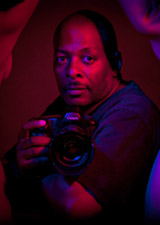 jLorenzo Photography
I specialize in erotic and artistic nude images. I've been involved with photography as a professional for over 30 years. My beginnings started in Denver, Colorado, moved to Los Angeles, California and now reside in Perth, Western Australia.

I've worked as a freelance commercial photographer shooting Fashion, Editorial, and Product. I have held positions as a Photo Editor for a Lifestyle magazine, Staff Photographer for a men's magazine and Still Photographer for X-rated films. Currently I hold the position of Associate Editor and Photographer for Contraban Magazine.

I'm grateful that I love what I do and do what I love.

Since my beginning I've always enjoyed visual imagery mainly in the form of older magazines such as Look, Life and The National Geographic. As time went on I started looking at all sorts of magazines trying to figure out how the photographer shot the image. I remember working for a photographer who shot nudes for various magazines and how the beautiful images he would create took days of pre-production to get things right. From the studio setup to testing the lights and film, even in post production there was a lot of work to be done. I can remember hearing him say "it's not all what it's cracked up to be, it involves a lot of hard work to produce an image. Glamour and nudes are the hardest to create, yet the most beautiful creation one can do" and to this day he wasn't lying.

Some of my favorite photographers include Helmut Newton (whom I met in LA), Art Kane, J Frederick Smith, David Hamilton and Robert Farber. I would read their books to get an insider's view on their thoughts. It really helped me understand what goes through the mind of such creative people.

Later, however, the real heroes for me were the photographers at Playboy and a lot of photographers found on the web such as Igor Amelkovich (art and erotic nudes) and Paul Mahder and Bryon Paul McCartney (dance nudes) to name a few. I always aspired to be as good as they are. The way they can make a model look so beautiful.
I prefer the model's natural beauty to come forth therefore I use very minimal airbrushing techniques. I use the nude form because of its beautiful, raw, uninhibited form. It's an open canvas for me to "paint my image with light".

The shootings can be quite involved in making the model do the same thing over and over until its right. I prefer to have models get involved in the creative process as this is important to me - to be able to communicate my vision and blend it with the model's understanding, a collaboration of ideas. For this reason alone when I select a model she must be comfortable in her skin, know herself and like herself. She must be open enough to be willing to try new experiences.

My interview process allows me the opportunity to study, listen and ask questions that normally one would not ask. It's in the answers that I can tell if the model is the type I would like to work with.

There was a time when I used to shoot that I could not express myself fully. I would work within a safety zone. During a photographers workshop the instructor stated that if there was one thing he wished we would take away is the ability to "break free" of our self imposed barriers. I've learned through workshops, friends and models that I should open more, express more and hence experience more. That is the journey I'm on now, to experience the "whole nine yards" - to express myself to the fullest, to be open and shoot what I feel deep inside not just what's on the surface.

I give credit to my friends and my favorite model that have been a part of this awakening experience. I now try to live life to the fullest and be free, from hang-ups and insecurities. I create like there is no tomorrow and always under every circumstances rid myself of any negative energy that may challenge me.

In closing I would like to say I hope you enjoy the images as much as I do.

CONTACT INFORMATION
Location: Dianella, Western Australia
Email: jlmiller @ jLorenzo.com.au
Website: www.jLorenzo.com.au
PRINT SALES & INFORMATION
Yes - contact artist directly to purchase fine art prints.
EXHIBITION LIST