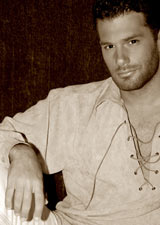 George Bond Kontaxis
George Bond Kontaxis was born in 1980 in Athens, Greece. His interest in photography started as a hobby when he was a teenager. At 18, he went to the Royal Holloway University in London where, in three years' time, he earned a bachelors degree in Management. During his student years, he pursued photography with even greater interest and managed to eventually turn his hobby into a profession. George's interest was initially centered on fitness and glamour, but his ability to recruit exceptional looking models on a regular basis, allowed him to try his hand at erotic and artistic nude images. The athletic female body is especially interesting to him.
George recently became a member of the Guild of Erotic Artists. He now lives in Las Vegas, Nevada. He enjoys shooting the beautiful landscapes of America's southwest as well as traveling to other exotic destinations around the world. He is always looking for new models and is constantly trying to evolve as an artist and to take his photography into new, exciting directions. New projects and cooperation's with magazines, publishers and other artists in creative ways are always of interest to him and his major goal for the future is to produce a coffee table book featuring his artistic nudes.