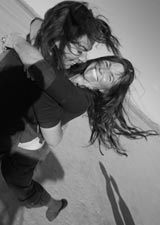 Renée Jacobs
Her photographic work has been seen and collected around the world. And along the way she worked as a civil rights lawyer for more than 15 years. Renée Jacobs is one of America's most exciting art photographers working today. She was awarded a Robert F. Kennedy Journalism Award and is in the permanent collection of the John F. Kennedy Presidential Library in Boston, Massachusetts. Her work is in numerous private collections and has been featured in several solo exhibits. In 2006, one of her images won an Honorable Mention in the prestigious International Photography Awards (the Lucies).

Renée Jacobs' work has appeared in the New York Times, Philadelphia Inquirer, Cleveland Plain-Dealer, U.S. News and World Report, Boston Phoenix, Camera 35, Camera Arts, SLR Photography, as well as numerous books, including Thinking in the Photographic Idiom, and Earth and You. Her solo monograph, Slow Burn: A Photodocument of Centralia, Pennsylvania received critical acclaim in the New York Times Review of Books.

Maxim Romania did a four page feature on Renée and her work in the November 2006 issue. Esquire Turkey did a feature of photographers around the world and included her as the only female photographer in the issue.

CONTACT INFORMATION
Location: Los Angeles, CA
Email: rejnay@aol.com
Website: www.reneejacobs.com
PRINT SALES & INFORMATION
Yes - contact artist directly to purchase fine art prints.
EXHIBITION LIST