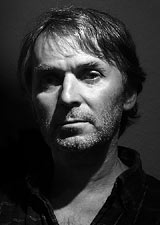 Jiri Hampl
Originally from Prague, photographer and graphic designer Jiri Hampl moved to Germany, his new homeland, in 1982. He prefers to use digital technology in his photo work, as it allows him to control his results more directly and makes post production work much easier.

As a child Jiri took photographs with his grandfather's camera. Now, he says, he shoots the subject that he wanted to even when he was a child - beautiful, naked women. It's an exciting contrast to his regular, routine work. In 1992 he participated in a Prague photography show, Czech Photography in Exile. After that first showing, he followed up with several other exhibitions in Germany. He also has had his work published in numerous books and magazines.

Jiri admits that he photographs just about everything that interests him, whether it be an apple, a building, or a beautiful model. But his true passion is women. Working with different models continues to fascinate him, and he likens his work in this area to an expedition or sorts, an artistic journey. The fruits of his labor are for all to enjoy.

CONTACT INFORMATION
Location: Germany
Email: jiri.hampl@akinaj.de
Website: www.akinaj.de
PRINT SALES & INFORMATION
Yes - contact artist directly to purchase fine art prints.
EXHIBITION LIST