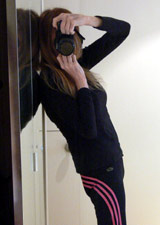 Elaine Hudson
Elaine Hudson's photography is distinguished by her exploration of feminine topics and artistic issues. She is based in New York City where she is engaged in a full schedule of both commercial work and personal pursuits. Her body of work is wide-ranging and includes fashion and events photography.

Elaine studied theatre in college and worked at Metropolitan Museum of Art. She has always followed her artistic callings. One particular subject that's been a recent focus in her personal work is photographing mannequins. As she says, "Mannequins symbolize humankind's desire to portray ones best-possible appearance when [being] viewed, not to mention being photographed." Strolling though NYC's shopping districts provides an endless supply of these "unreal" people. Like much of her work, photographing mannequins is about illumination, bringing the unseen into view, and making mortal what we've come to objectify.

CONTACT INFORMATION
Location: New York City
Email: elaine.nyc @ gmail.com
Website: www.elainehudsonphotography.com
PRINT SALES & INFORMATION
Yes - contact artist directly to purchase fine art prints.
EXHIBITION LIST