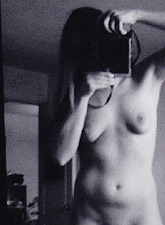 April-Lea Hutchinson
April-Lea is a film photographer and art model residing in Toronto, Ontario. She currently works mainly with film, shooting a mixture of medium format, 35mm, and Polaroid's. Her main focus is nudes and erotica and it's easy to see that her work is infused with an exciting quality of raw, creative energy.

April-Lea has been modeling since the age of sixteen but it wasn't until the last couple of years that she decided to take her creative spirit behind the lens. She says her work is about discovering emotions in her subjects, revelations of their beauty, and sometimes it's about telling a story. It's her strong sense of empathy that allows her to connect with her models. Something that she says, occasionally borders on intimacy. She also turns the camera upon herself so that she can can capture intimate parts of her life.
CONTACT INFORMATION
Location: Toronto, Ontario, Canada
Email: ahutch @ rogers.com
Websites: aprilleaphoto.carbonmade.com & soamused.tumblr.com (Blog)
PRINT SALES & INFORMATION
Yes - contact artist directly to purchase fine art prints.
EXHIBITION LIST