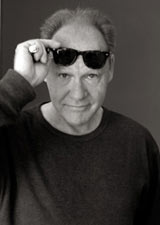 Michael C. Gross
Michael Gross is something of a renaissance man. He is an art director, editor, illustrator, photographer, film producer, film director and painter. He is also a superb photographer with a divine gift for shooting erotica. Along with his partner, Mandy, he recently launched the website MikeAndMandy.com to showcase their eclectic and wild collection of erotica, which ranges from fetish to fine art to vintage to MILF's to naked midgets. It's for porn connoisseurs with just about any taste.
Michael was raised New York. He majored in Fine Art at the Pratt Institute in Brooklyn. His affinity for high-profile success started when he was made senior designer for the 1968 Mexico City Olympics. He then went on to work as Art Director for such publications as Esquire, Family Health, NY Scenes, and National Lampoon. As a partner in the graphic design firm Pellegrini, Kaestle, and Gross his clients included Merrill Lynch, Jim Henson, Simon and Schuster, Random House, Columbia Records, ABC television, John Lennon and Yoko Ono, and The Smithsonian in Washington, DC.

This level of success was only the beginning. In 1980 he moved to Los Angeles to start producing films and TV. He worked in various roles as director or producer for Heavy Metal, Ghostbusters, Twins, Beethoven, Kindergarten Cop, Legal Eagles, and many others. Eve the designer, he also designed much of the advertising for those projects and even designed the famous "no ghost" logo for Ghostbusters.

Michael has sat on the board of Pratt Institute, taught at The School of Visual Arts NY, and lectured at dozens of universities and professional organizations. He is currently living and working in Oceanside, Ca. where he has been with the exhibition department and curating for the Oceanside Museum of Art (OMA).

CONTACT INFORMATION
Location: California
Email: mikeginesc@cox.net
Website: mikeyandmandy.com
PRINT SALES & INFORMATION
Yes - contact artist directly to purchase fine art prints.
EXHIBITION LIST