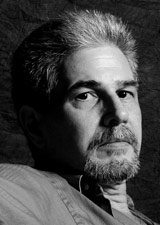 Jeff Fiore
I have been a photographer for over 30 years. In the past I shot 35mm and medium format black & white, doing my own wet darkroom work and prints. I shot mostly landscapes, seascapes and nature.

Photography took a back seat to career and family for many years. Now that my daughters are grown up and my wife is now called "ex-wife" I can now pursue photography for my creative outlet. I started shooting models in 2004 and haven't looked back since. Almost everything I knew about photography was worthless when it came to working with models. I had to learn a new mode of shooting with more precise control of lighting and interaction.

My work consists of pinup, fashion, glamour, glamour nudes and art nudes. My influences range from paintings of the old masters; to Ansel Adams, George Hurrell, and other photographers too numerous to mention; and to Vargas and other classic and contemporary pinup artists.

In late 2006, I chose art nudes as my main genre of photography. Of all the genres I worked in, I found art nudes to be the most challenging and very difficult to do well. Anyone can take a picture of a nude woman - just point and shoot. But art nude is about lighting and how it plays on the human form. I love collaborating with good models – what I call "creative synergy" – where a photographer and model make an inspired connection to create art.
I find inspiration everywhere. Sometime it's the model herself that inspires me. I am moving towards more concept oriented photo shoots that contain hidden meaning, much like Pink Floyd using The Wizard of Oz as the underlying theme for their Dark Side of the Moon.

My art nudes are either homogeneous or heterogeneous. I want the model to either merge with or diverge from the environment – harmony or discord – it all depends on what I want to say.

CONTACT INFORMATION
Location: Mahopac, New York
Email: jfiorephoto @ gmail.com
Website: www.JeffFiorePhotography.com
PRINT SALES & INFORMATION
Yes - contact artist directly to purchase fine art prints.
EXHIBITION LIST