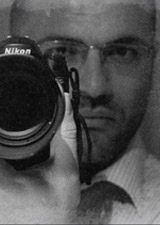 Paolo Del Frate
Coming from Priverno, Italy, photographer Paolo Del Frate is regarded as one Italy's most interesting art photographers. His artistic nudes are saturted with symbolism and his compositions are astoundlinly beautiful. He is especially astute at shooting nudes in black & white. Paolo has exhibited his work in the Italian cities Privett, Rome and Modena and showcased in throughout the world in various publications.

CONTACT INFORMATION
Location: Rome, Italy
Email: info@padphoto.it
Website: www.paolodelfrate.com
PRINT SALES & INFORMATION
Yes - contact artist directly to purchase fine art prints.
EXHIBITION LIST