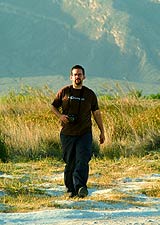 David Josue Delgado
Born on March 20th, 1976, David Josue Delgado started shooting pictures when he was a teenager, in Hermosillo, Mexico, for his school's newspaper. in 1997 he moved to Monterrey, to study Communication Science, where he founded Cuboflash, a photography club. David has taken courses under photographers Graciela Iturbide, Katia Brailovsky, Helena Hernadez, and Alejandro Barba, and with the Argentine cinematographer Rodolfo Denevi at the International School of Cinema and Television, in La Hababa. His commercial and artistic work includes still photography, film, and video.

David has participated in film-related events such as the Seattle Underground Film Festival as well as several other film festivals in his native Mexico. In 2004, he was recognized at the Nuevo Leon Hall of Photography with the public award for obtaining the most spectator's votes with his work titled, San Juan. He was the Photography Director for the TV series, Rumores, which is broadcast in Spain and South America.
CONTACT INFORMATION
Location: Monterrey, Mexico
Email: delgado@davidjosue.com
Website: www.davidjosue.com
PRINT SALES & INFORMATION
Yes - contact artist directly to purchase fine art prints.
EXHIBITION LIST