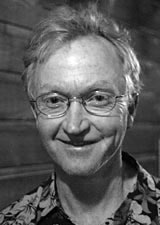 Ken Bartle
Ken Bartle Ken Bartle is originally from Australia but now lives in Aspen, Colorado. He began taking photos of the female nude in the late nineties. His initial expectation was that he would simply be taking pictures of women without clothes on, and with luck he would produce a few nice artistic images. It quickly became evident that when one starts taking pictures of a woman, a human being eventually reveals herself. Ken says he began to learn more about his model's feelings, their dreams, and their desires. He even became good friends with many of them.

It was a voyage of self-discovery, for both his subjects as well as Ken himself. He began seeing the world through the eye of his camera.

Ken maintains that "there are very few things that can give me greater pleasure than sharing those moments with a woman when she feels most beautiful, and good about herself. And if I am able to participate through photography in creating some of those moments with her, I am able to feel that the world is good. I know that on a global scale itís a very small thing, yet if we can see beauty in any aspect of life, however insignificant it may seem to others, there is a better chance we can visualize a peaceful world."