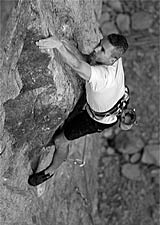 James Baeza
Being a rock climber, Jim Baeza originally carried a camera only to take snapshots of the earth from his breathtaking, high altitude vistas. Landscapes were his passion.

As an athlete and climbing coach he developed a sincere and heartfelt appreciation for the wondrous mechanics of the human body. It was only natural that he'd turn his lens toward this subject. And the human figure became another artistic passion in his life. As he relates, "I enjoy presenting the human form within nature. Sometimes I'll disguise it in the landscape in order to show how insignificant human beings are in relation to the natural order of things. This is the basis of what I consider my art."

CONTACT INFORMATION
Location: California
Email: chatz@sbcglobal.net
Website: jamesbaezaphoto.com
PRINT SALES & INFORMATION
Yes - contact artist directly to purchase fine art prints.
EXHIBITION LIST